Healthy Snacks That Helps You Maintain Good Weight And Also Reduces Hunger
Healthy Snacks That Helps You Maintain Good Weight And Also Reduces Hunger
Healthy Snacks That Helps You Maintain Good Weight And Also Reduces Hunger
Healthy Snacks That Helps You Maintain Good Weight And Also Reduces Hunger
Maintain Good Weight And Reduce Hunger
Snacks are commonly eaten in-between meals in many parts of the world. They can be fruits or foods, it all depends
on choice. There are many healthy snacks that may fill you up without eating normal meals and can also help in
weight maintenance.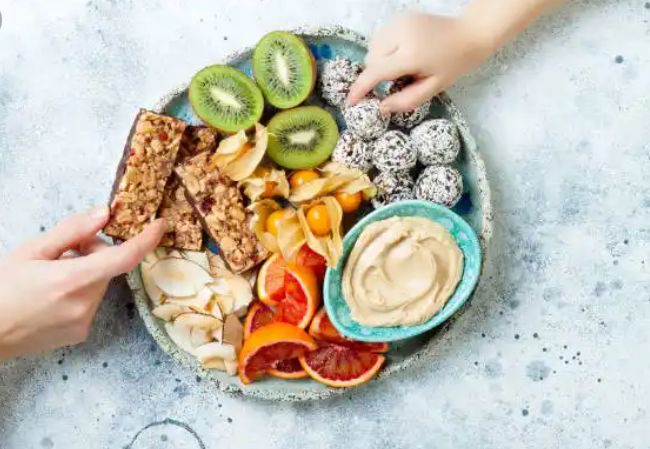 1. Cucumber
Cucumbers are enriched with antioxidants that are good for the body's metabolism. They are also filled with fluid
which helps in reducing hunger and promoting a healthy weight.
2. Apples
Apples are rich in fiber and essential vitamins and minerals. They are rich in antioxidants which protect the heart
against diseases. They reduce hunger because of the high fiber content.
Healthy Snacks That Helps You Maintain Good Weight And Also Reduces
Hunger
Also, Read 5 Health Benefits Of Cucumber To The Body
3. Dark chocolate
Dark chocolate is very healthy especially if the quantity of cocoa is high. Studies revealed that it promotes heart
health because of the flavonols in it.
4. Greek yogurt
Greek yogurt is packed with protein and essential vitamins and minerals for the metabolism of the body. It is very
effective in eliminating hunger for a long period.
5. Nuts
Studies revealed that nuts contain essential nutrients and edible fat. They promote heart health and can also help in
quenching hunger. They may help in losing weight when eaten in moderation.
6. Popcorn
Popcorn is rich in fiber and other nutrients. The wholegrain can easily fill the stomach and can also help in
maintaining a standard weight.