Health Benefits Of Clove
Health Benefits Of Clove
Benefits Of Clove
Cloves are one of the most popular species in the world, clove are native to Indonesia, they are used as spices, use in cooking varieties of meals, and are also highly medicinal.
It can also be eaten raw or used in producing traditional medicine (Agbo).
Here are the benefits of eating clove :
1. THEY RELIEVE TOOTHACHE
They contain anesthetic properties, when placed on a tooth, they relieve the pain.
2. THEY BOOST THE IMMUNE SYSTEM
They contain vitamin c Which increases the number of white blood cells in the body which helps to fight infection.
3. CLOVES IMPROVE DIGESTION
They can be used as a remedy for digestive issues since they increase digestive enzymes. They are also rich in fibers that promote digestive health and prevent constipation, also stop nausea
4. THEY PROMOTE HEALTHY LIVER
Clove contains eugenol which helps in liver function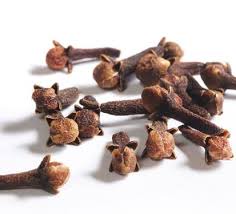 5. CLOVE HELPS REDUCE PAIN AND INFLAMMATION IN THE BODY
It contains anti-inflammatory and analgesic properties which help in reducing pain
6. THEY HAVE ANTIBACTERIAL PROPERTIES
Clove contains antibacterial properties that kill bacteria like E-coli
7. IT STOPS MOUTH ODOR
clove helps to kill bacteria in the mouth when eaten or mixed with toothpaste thus stoping mouth odor
8. THEY HELP REGULATE BLOOD SUGAR
Cloves are perfect for people with blood sugar problems, like diabetes, because they act like insulin inside the body. They help export the excess sugar from your blood into your cells, thus restoring the balance, and keeping your blood sugar in check.
9. THEY SLOW DOWN BLOOD CLOTTING
Eugenol in cloves is known to slow down blood clotting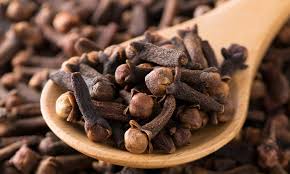 10. THEY ARE FULL OF ANTIOXIDANTS
Cloves are the number one and most potent dietary source of polyphenols. Polyphenols are micronutrients that we absorb when we eat plants. Clove also helps break down cholesterol in our body, thus increasing blood flow.
11. THEY ARE GOOD FOR JOINTS AND BONE
Cloves contain certain elements like flavonoids, manganese, and eugenol that promote bone and joint health. These substances increase bone density, are involved in the creation of bone tissue and transport healthy minerals to our bones.
But like they say too much of everything is bad, it should be taken in small quantities.