5 Sexually Transmitted Diseases Symptoms You Need To Know
5 Sexually Transmitted Diseases Symptoms You Need To Know
5 Sexually Transmitted Diseases Symptoms You Need To Know
5 Sexually Transmitted Diseases Symptoms You Need To Know
Symptoms You Need To Know
Health Beyond Wealth
Not all cases of STD are symptomatic, when people develop symptoms, it can be mistaken for another condition such
as a urinary tract infection or a yeast infection. If your intimate life is very active and you feel something is off, what
you feel could be an STD symptom.
In this article, We will be sharing with you some STD symptoms you should be concerned about. However, having
any of these symptoms does not automatically mean you have an STD but it raises the possibility.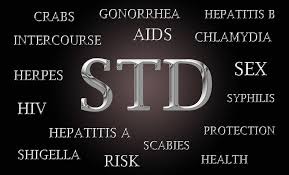 5 Sexually Transmitted Diseases Symptoms You Need To Know
1. If you feel pain when you pee, it could be as a result of an STD. The pain comes from inflammation in your urinary
tract. Bacteria can cling to the mucus membrane of your urethra, which causes this inflammation.
STDs such as gonorrhea and chlamydia can cause burning sensations when you pee.
2. A good number of us pretty much know what is normal and what is not when we discharge. If things look odd
down there, it could be due to STDs like trichomoniasis, Chlamydia, and gonorrhea. This is caused by inflammation.
The bacteria can cling to your reproductive tract, which causes irritation and unusual discharge.
3. Women who experience burns or itches in their private part may have a yeast infection, but STDs such as
gonorrhea and chlamydia can also cause those symptoms.
4. For men, when you have bumps on your genitals, it can be a sign of an STD, including syphilis and genital herpes.
If you develop a bump or sore, do not write it off, even if it goes away after a few days.
5. You should pay close attention to pelvic pain. Chlamydia and gonorrhea are known to cause these symptoms.
Chlamydia and gonorrhea can contribute to pelvic pain because they not only affect the private part but also spread
to the uterus and fallopian tubes.
NOTE: STDs like Chlamydia start to show symptoms several weeks after you are infected. While gonorrhea may
show symptoms 1–14 days after infection, for Herps most people show symptoms 2–12 days after exposure.
STD symptoms can show up in the genitals, but symptoms can also appear all over the body, anywhere near and far
from the site of infection. There are situations in which STDs like gonorrhea can lead to rheumatoid symptoms in the
joints and syphilis can also infect the brain to cause symptoms.